Football and Data Models: How Teams Collaborate for a Common Goal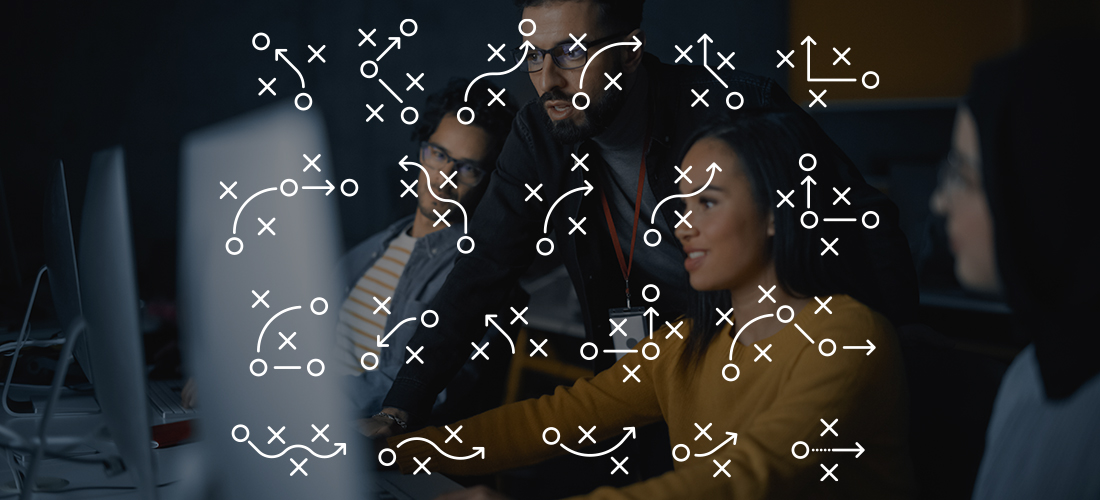 How uniting a football team around a common goal is like uniting IT and business users collaborating over a data model
Football is back, baby! As the crisp fall air starts to roll into all our lives with the aroma of pumpkin spice wafting towards us from a nearby Starbucks and hoodies coming out of the back of our closets, excitement is in the air if you are anything like me. Full disclosure, American football is (and has always been a passion of mine). To the untrained eye, it seems like 22 larger-than-life athletes violently ramming into each other in what seems like it should be organized chaos… but the reality is that it is a poetic symphony in which every person on the field has a job to do to drive towards the ultimate goal of the larger cohesive unit. This is not dissimilar to what all our organizations are going through every single day, every single quarter, and every single year when we set our strategic business targets.
I know, I know… you're thinking that this is a bit of stretch, but let's explore some of the ways that a football team working towards bringing home a championship can be likened to the data democratization and collaboration between tech users and business users everyday:
Common Goals: The offense and defense of team are different in mentality, skillsets, and direct objectives but both must work together to get the win any given weekend. Both tech users and business users in data modeling can be drastically different while sharing the common objective of achieving successful, accurate data modeling outcomes to meet business requirements.
Roles and Expertise: I mentioned the poetic nature of football. Each position has a job to do and relies on all the others to do theirs as well. Just like in a company, everyone has their own specific set of talents and skills to contribute to the greater good. Tech users can bring knowledge of data infrastructure and modeling techniques while business users are able to contribute their understanding of specific business processes and requirements.
With everyone having their own roles, trust and respect becomes a crucial part of this whole equation. Football teams thrive upon trust and respect in the locker room. When embracing data modeling as an organization, both tech users and business users must value what the other is bringing to the table and respect the input that they are providing based on their aforementioned skillsets and knowledge of the common goals we already discussed.
Reduced Data Redundancy: In football, the opposition is always adjusting, and every play is dynamic. Competing requires agility and the ability to quickly adapt. Historically, the greatest coaches of all time have shown the innate ability to adapt to overcome the opposition's strategy. Pushing it a step further, arguably the biggest job of a great coach is to make sure that there is constant analysis of the performance of the team for continuous improvement.
Likewise, it is a best practice for the team developing the data models to regularly communicate collaborate with the teams that are consuming the data and reports. This helps with several outcomes by:
Ensuring the models that are being built are aligned with the needs of the business
Preventing re-work and inaccuracy within the data models
Promoting the cross-pollination of expertise to elevate accumen, capability and efficiency
Increasing speed to strategic decision making
Working together towards these goals with one strategic playbook keeps a football team on the same page, and similarly creates a shared understanding among different business units. This includes defining structures, relationships and modeling methodologies. There must be a willingness when working together to help refine data models, optimize processes and enhance the way that the team is utilizing data modeling to build a foundation in the path to data maturity.
Summary: Finding the Goal Line Together
At this point, it is clear that any team or organization can benefit from the collaboration of different teams. For our sake, it is crucially important to make sure that those creating the data models that lead to the reports being consumed by business users are in lockstep. A lack of alignment between the two can lead to major issues like unachievable expectations, high levels of inefficiency and productivity coming to a crawl when speed is paramount.
Throughout the data modeling lifecycle, you must make sure that there is a regular communication and feedback loop between the two sides of this coin including a cadence of accountability and joint workshops to verify complete understanding of the requirements of the business. Documentation to track the entire data modeling journey is crucial for an organization to find a correct path and reverse engineer as needed when there is a need to iterate when desired outcomes are not being achieved.
For more insights…
Join our upcoming webinar to see how erwin Data Modeler 12.5 is bringing together business and tech users via the brand new erwin ER360 visualization and collaboration portal!
Save your spot to be in attendance on September 27, 2023, as our experts highlight and share more information about the latest release of the indisputable champ in data modeling software.