Data Governance Helps Build a Solid Foundation for Analytics

If your business is like many, it's heavily invested in analytics. We're living in a data-driven world. Data drives the recommendations we get from retailers, the coupons we get from grocers, and the decisions behind the products and services we'll build and support at work.
None of the insights we draw from data are possible without analytics. We routinely slice, dice, measure and (try to) predict almost everything today because data is available to be analyzed. In theory, all this analysis should be helping the business. It should ensure we're creating the right products and services, marketing them to the right people, and charging the right price. It should build a loyal base of customers who become brand ambassadors, amplifying existing marketing efforts to fuel more sales.
We hope all these things happen because all this analysis is expensive. It's not just the cost of software licenses for the analytics software, but it's also the people. Estimates for the average salary of data scientists, for example, can be upwards of $118,000 (Glassdoor) to $131,000 (Indeed). Many businesses also are exploring or already use next-generation analytics technology like predictive analytics or analytics supported by artificial intelligence or machine learning, which require even more investment.
If the underlying data your business is analyzing is bad, you're throwing all this investment away. There's a saying that scares everyone involved in analytics today: "Garbage in, garbage out." When bad data is used to drive your strategic and operational decisions, your bad data suddenly becomes a huge problem for the business.
The goal, when it comes to the data you feed your analytics platforms, is what's often referred to as the "single source of truth," otherwise known as the data you can trust to analyze and create conclusions that drive your business forward.
"One source of truth means serving up consistent, high-quality data," says Danny Sandwell, director of product marketing at erwin, Inc.
Despite all of the talk in the industry about data and analytics in recent years, many businesses still fail to reap the rewards of their analytics investments. In fact, Gartner reports that more than 60 percent of data and analytics projects fail. As with any software deployment, there are a number of reasons these projects don't turn out the way they were planned. Among analytics, however, bad data can turn even a smooth deployment on the technology side into a disaster for the business.
What is bad data? It's data that isn't helping your business make the right decisions because it is:
Poor quality
Misunderstood
Incomplete
Misused
How Data Governance Helps Organizations Improve Their Analytics
More than one-quarter of the respondents to a November 2017 survey by erwin Inc. and UBM said analytics was one of the factors driving their data governance initiatives.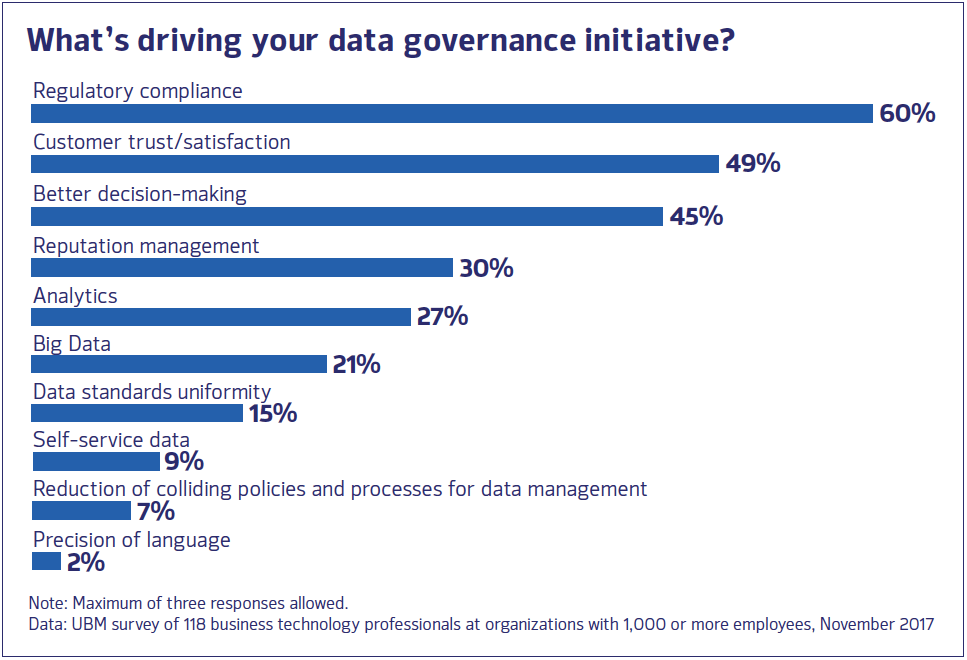 Data governance helps businesses understand what data they have, how good it is, where it is, and how it's used. A lot of people are talking about data governance today, and some are putting that talk into action. The erwin-UBM survey found that 52 percent of respondents say data is critically important to their organization and they have a formal data governance strategy in place. But almost as many respondents (46 percent) say they recognize the value of data to their organizations but don't have a formal governance strategy.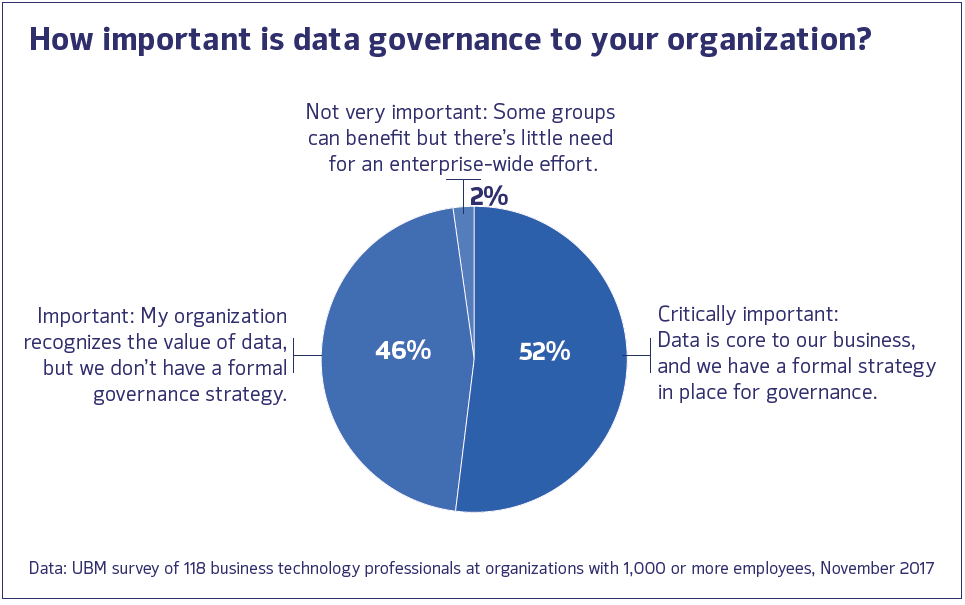 When data governance helps your organization develop high-quality data with demonstrated value, your IT organizations can build better analytics platforms for the business. Data governance helps enable self-service, which is an important part of analytics for many businesses today because it puts the power of data and analysis into the hands of the people who use the data on a daily basis. A well-functioning data governance program creates that single version of the truth by helping IT organizations identify and present the right data to users and eliminate confusion about the source or quality of the data.
Data governance also enables a system of best practices, subject matter experts, and collaboration that are the hallmarks of today's analytics-driven businesses.
Like analytics, many early attempts at instituting data governance failed to deliver the expected results. They were narrowly focused, and their advocates often had difficulty articulating the value of data governance to the organization, which made it difficult to secure budget. Some organizations even viewed data governance as part of data security, securing their data to the point where the people who wanted to use it had trouble getting access.
Issues of ownership also hurt early data governance efforts, as IT and the business couldn't agree on which side was responsible for a process that affects both on a regular basis. Today, organizations are better equipped to resolve these issues of ownership because many are adopting a new corporate structure that recognizes how important data is to modern businesses. Roles like chief data officer (CDO), which increasingly sits on the business side, and the data protection officer (DPO), are more common than they were a few years ago.
A modern data governance strategy weaves itself into the business and its infrastructure. It is present in the enterprise architecture, the business processes, and it helps organizations better understand the relationships between data assets using techniques like visualization. Perhaps most important, a modern approach to data governance is ongoing because organizations and their data are constantly changing and transforming, so their approach to data governance needs to adjust as they go.
When it comes to analytics, data governance is the best way to ensure you're using the right data to drive your strategic and operational decisions. It's easier said than done, especially when you consider all the data that's flowing into a modern organization and how you're going to sort through it all to find the good, the bad, and the ugly. But once you do, you're on the way to using analytics to draw conclusions you can trust.

Examining the Data Trinity
A strong data governance foundation underpins data security and privacy.
Get the White Paper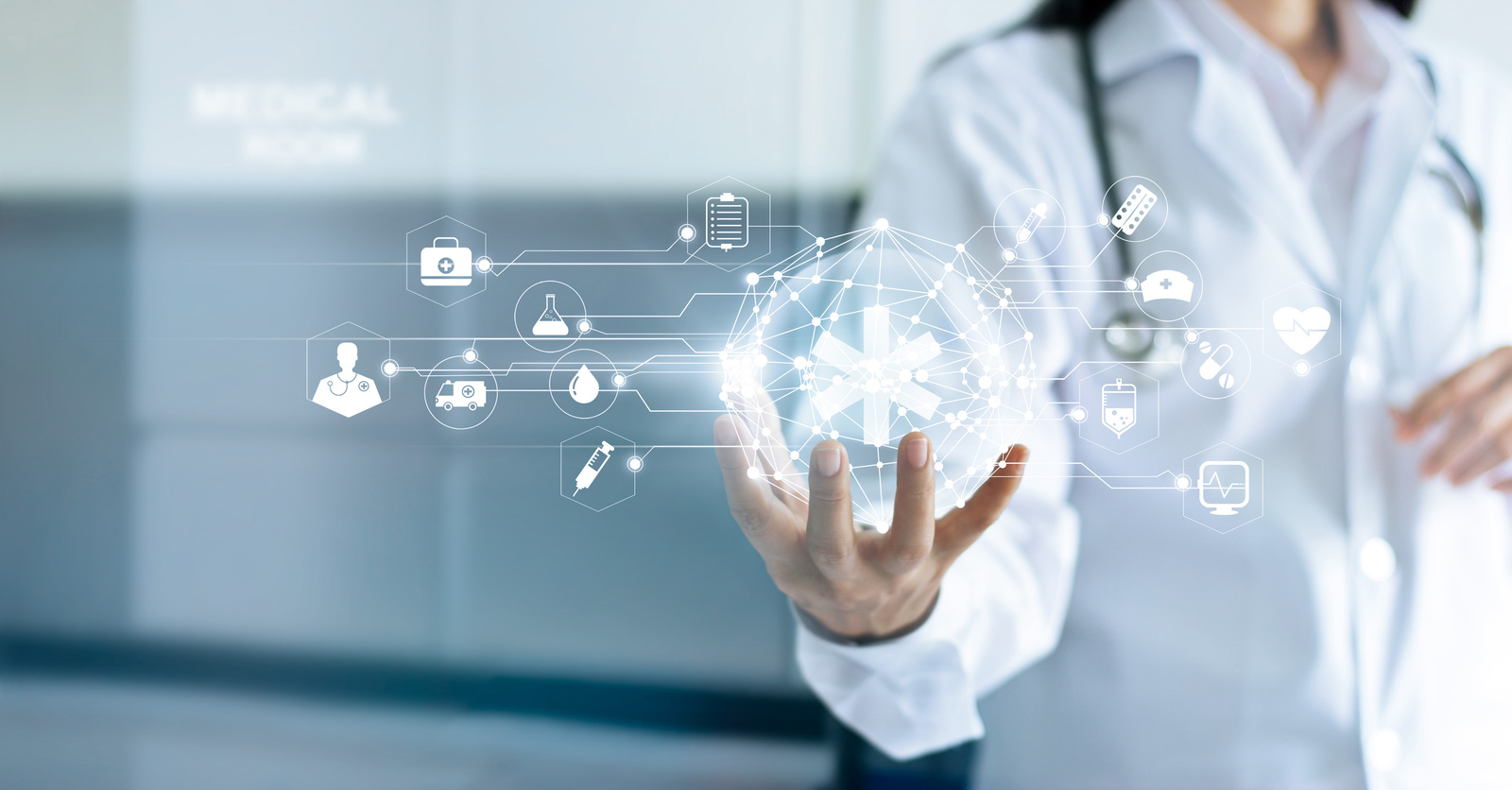 Previous posts:
You can determine how effective your current data governance initiative is by taking erwin's DG RediChek.