Meet the featured speakers for Quest EMPOWER 2022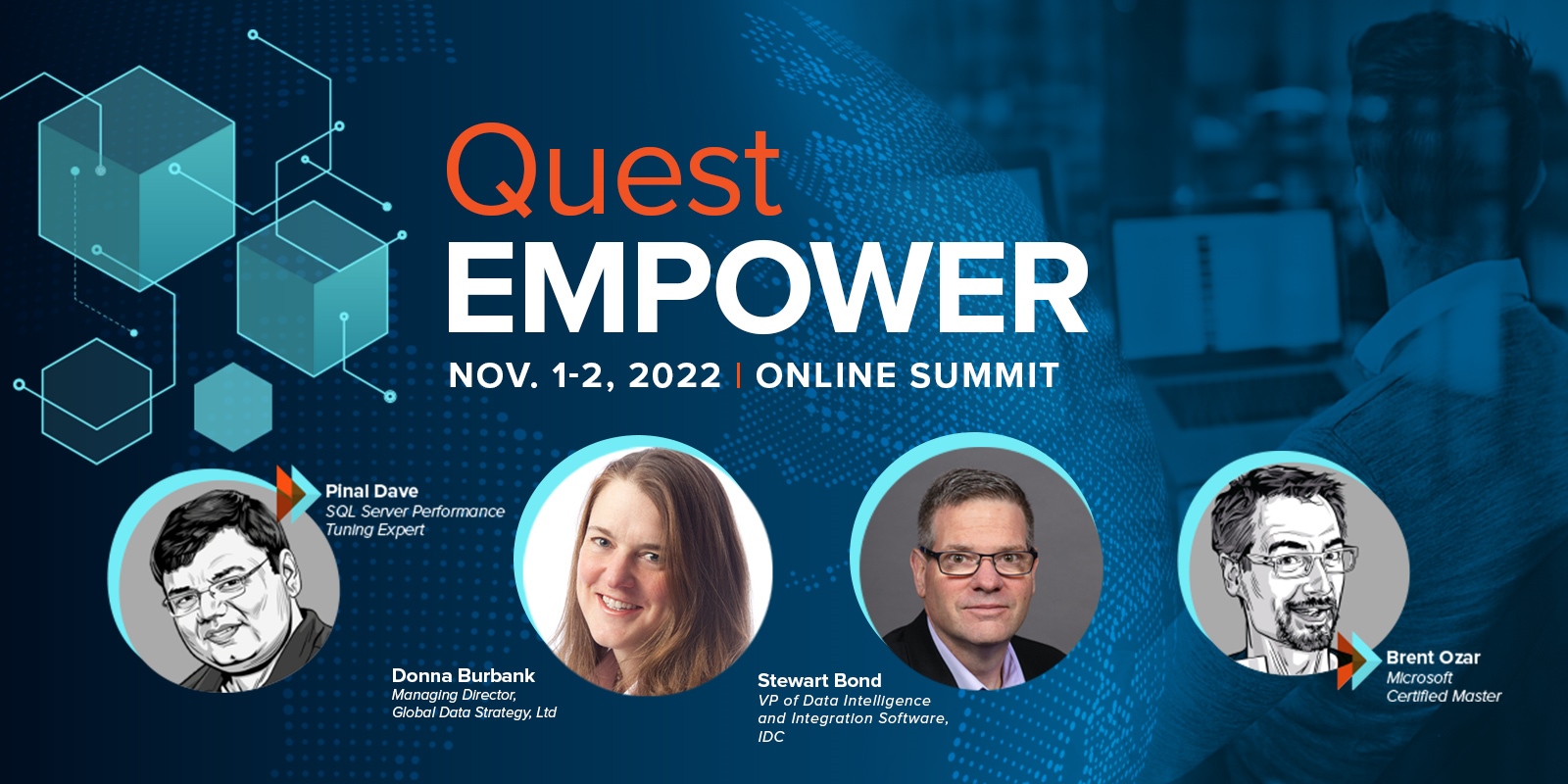 Plan ahead to attend Quest EMPOWER 2022
We are thrilled to introduce Quest EMPOWER 2022, a free, two-day online summit aimed to inspire you and help you develop new strategies for advancing your data intelligence, data governance, and data operations initiatives. Attend this event to learn from Quest customers and prominent data industry experts who are working towards maximizing the strategic value and application of data.
The dates for Quest EMPOWER 2022 are November 1-2, 2022. The first day of the conference will focus on Data Intelligence and Governance, while the second day will be devoted to Data Operations. Plan to attend both days in their entirety, or only the days or sessions that are most relevant to you.
Discover new insights into data intelligence with Donna Burbank

Donna Burbank, Managing Director, Global Data Strategy, Ltd
"The Importance of Data Intelligence to the Data-Driven Business"
Donna Burbank will speak on the importance of data intelligence and give best practices based on real-world application on day one of Quest EMPOWER 2022. Donna has over 25 years of expertise in data management and business architecture and is a renowned industry specialist in information management. She is currently the Managing Director of Global Data Strategy Ltd, a global data management consulting firm, and has worked with dozens of Fortune 500 businesses in the Americas, Europe, Asia, and Africa.
Donna has been a longtime member of DAMA International as well as a past president and advisor to the DAMA Rocky Mountain chapter. She also received the Excellence in Data Management Award from DAMA International for her contributions to the data management community. She is a frequent presenter at industry conferences, has co-authored several books on data management, and speaks and writes regularly with industry publications and organizations like Harvard Business Review, DATAVERSITY, EM360 Tech, Information Management, and TDAN.
Stewart Bond of IDC will provide fresh perspectives into building data trust

Stewart Bond, VP of Data Intelligence and Integration Software, IDC
"Building Data Trust through Data Quality, Literacy and Governance"
Stewart Bond from IDC will talk on the first day of Quest EMPOWER 2022 about how important it is to build trust in data and how IT and data governance teams can best focus their efforts to do so. Stewart is the Vice President of IDC's Data Integration and Intelligence Software service. Stewart's main research focus is on new trends that are shaping and changing how data is moved, ingested, changed, mastered, cleaned, and used in the age of digital transformation.
Stewart has worked in the IT industry for over 25 years. He has seen many shifts in the IT sector over his career, beginning with his early experience in database and application development, progressing to solution design and implementation and currently in strategic architectural consulting. His depth of field expertise, combined with market acumen, provides him with a distinct perspective that his customers and peers value.
Brent Ozar will provide a roadmap for migrating SQL databases to the cloud

Brent Ozar, Founder/Owner, Brent Ozar Unlimited
"Migrating to the Cloud: A Roadmap for SQL Server Databases"
Brent Ozar will guide you on how to plan the migration of your SQL databases to the cloud on day two of Quest EMPOWER 2022. Brent has spent the last two decades accelerating the performance of SQL Server. He developed sp_Blitz and the SQL Server First Responder Kit and enjoys sharing his knowledge at BrentOzar.com.
Pinal Dave will show you how to optimize SQL Server in the cloud

Pinal Dave, SQL Server Performance Tuning Expert, SQLAuthority.com
"Achieving Cost-effective SQL Server Performance Tuning in the Cloud"
On the second day of Quest EMPOWER 2022, Pinal Dave will talk about how to improve SQL Server performance in the cloud while optimizing your spend. Pinal is an expert in SQL Server performance tuning and works as an independent consultant. He has written 12 SQL Server database books, 30 Pluralsight courses, and more than 5,000 articles about database technology on his blog, https://blog.sqlauthority.com. Pinal can help you whether you need guidance with a specific query plan or just want general tips on how to make SQL Server run better.
Learn how to maximize the business impact of data at Quest EMPOWER
At Quest EMPOWER 2022 you will learn cutting-edge techniques to manage data, improve data intelligence, and empower everyone in your business with data, regardless of whether you're a CDO, IT or data governance leader, data steward, analyst, architect, DBA, or developer. Don't pass up this chance to:
Each day, join Bharath Vasudevan, Vice President of Quest ISM Product Management, for the opening keynote sessions…

The day 1 keynote: "Maximize the Business Impact of Your Data through Data Intelligence and Governance"
The day 2 keynote: "Maximize the Business Impact of Your Data through Data Operations"

Join other sessions providing unique insights from Quest customers, experts and data veterans on:

The real world value of data intelligence
Data democratization through self-service data preparation
Lessons in hybrid cloud operations
Empowering data engineering to deliver faster
Fueling the data-driven enterprise with Quest solutions
And more

Follow us on Twitter at #QuestEmpower for updated session announcements, insights and highlights
Sign up today for Quest EMPOWER 2022 and be ready to discover how to maximize the business impact of your data!