Top 3 reasons to attend Quest EMPOWER 2022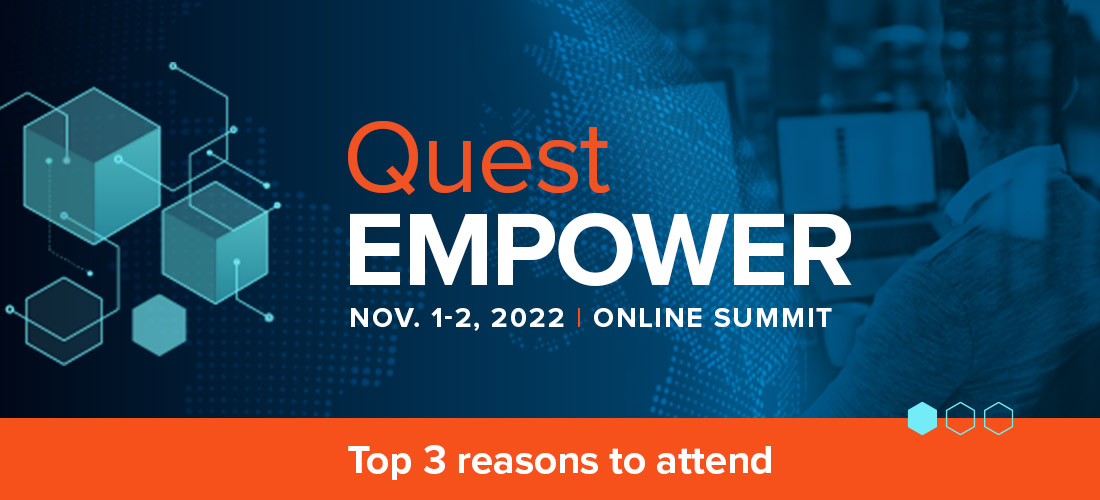 Quest® EMPOWER, our free data summit, is coming to you live and online, November 1-2, 2022. Whether you're new to erwin® by Quest®, or you're a loyal user of our industry-leading solutions, you'll benefit from learning how to maximize the business value of your data.
We know carving out time to grow your skillet isn't easy, but we promise, the insights you'll gain from data experts and your peers will save you plenty of time in the long run. And in case you're still not convinced, check out the top three reasons why you should save a spot. Bonus reason first? By simply signing up, you'll get all the EMPOWER sessions delivered to your inbox to watch after the summit – at your convenience. You don't even have to attend the live event to catch all the presentations. So, you've got nothing to lose and a whole lot to gain, including…
Your chance to hear from inspiring data experts
We've got a packed expert lineup for you at Quest EMPOWER 2022. Speakers include leading data evangelists Stewart Bond and Donna Burbank. They'll share the strategies that leading organizations are using to improve data intelligence and data governance. You'll also hear firsthand how erwin by Quest customer Enexis Groep is tackling bringing together data intelligence, data modeling and enterprise architecture to deliver more data insight for its organization. By the end of the first day, you'll understand the real-world value of data intelligence; know how to build data trust through data quality, literacy and governance; and fuel a data-driven enterprise.
Wondering who else is speaking at Quest EMPOWER?
On day two, database experts Brent Ozar and Pinal Dave will take the virtual stage. In his signature fun and educational style, Brent will show you how to successfully migrate to the cloud with a roadmap for SQL Server databases. Next up is Pinal Dave of SQL Authority. Pinal will provide all the guidance you need to achieve cost-effective SQL Server performance tuning in the cloud. Getting to join renowned data intelligence, data governance and data operations experts is a pretty great reason to attend Quest EMPOWER, but getting to join them instantly from the comfort of your home or office? That's a win-win.
Which brings us to the second reason why erwin customers, as well as anyone desiring to be data driven, will appreciate Quest EMPOWER.
You'll get all the perks of a traditional conference – without the hassles of traveling to an in-person data summit. You'll avoid tedious airport security lines, cramped flights and sore feet from wandering around a massive event space for two days. Plus, you don't even have to make small talk with strangers if networking isn't your thing. You can just get comfy, relax and enjoy. Because we're bringing all the data experts and content to you – for free. Which means you also get out of dealing with expense reports. That's why no travel and no costs are tied for the number two reason why you should save a spot now for Quest EMPOWER.
And here's what really makes Quest EMPOWER unique…
You also get to learn from your peers. Yes, we'll have plenty of impressive industry leaders speaking, but we'll also offer sessions led by data veterans in the trenches, sharing their real-world experiences. What's cool about that is you'll get to hear what's really working for others who've faced the same data challenges as you. That's what sets Quest EMPOWER apart. You're getting the best of both worlds: tips from data industry experts and leaders as well as actual data practitioners. That invaluable combination of viewpoints is what will empower you to maximize the business value of your data.
So, are you in for Quest EMPOWER?
Because we truly hope you'll join us for this special virtual event. Why wait? Save your spot today for Quest EMPOWER. And be sure to browse the agenda to learn more about all the topics we'll cover. Then, get ready to be inspired to move your organization's relationship with data forward.