Quest EMPOWER: Day two is all about data operations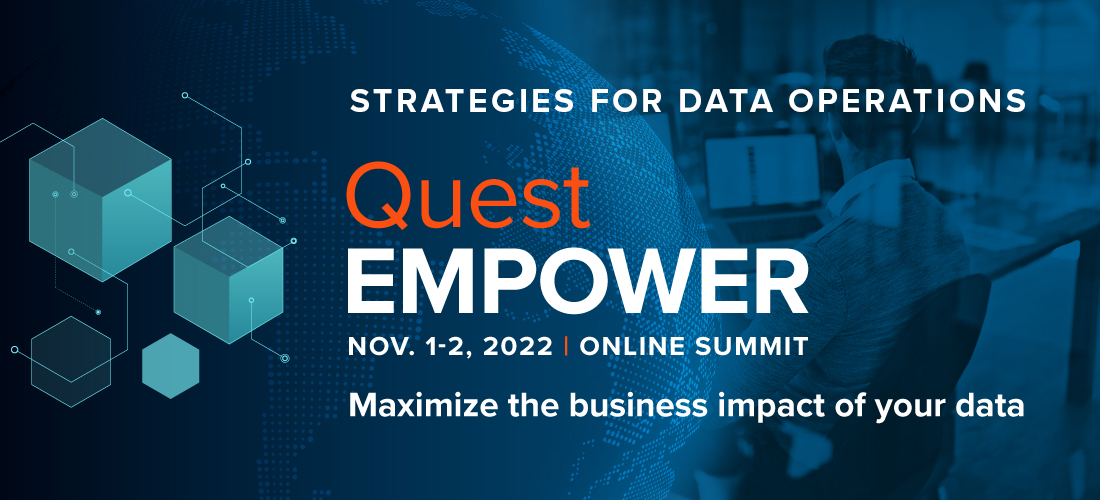 In our last post, we explored reasons why you'll want to attend day one of Quest® EMPOWER 2022. Now, we'll get into some of the highlights and can't-miss sessions you can expect on day two.
Day two will focus on data operations
The second day of Quest EMPOWER will help you lay a foundation to become truly data driven. If you want to efficiently modernize data infrastructure, optimize system performance and deliver applications that will empower your business, mastering data operations is the key. That's why we'll spend time discussing how you can best support enterprise-level business needs with strategies for designing, building and operating data structures, database systems and data pipelines.
Renowned database experts and data veterans alike will discuss everything from the data operations considerations that are essential to cloud migration, to the ways you can balance cloud spend versus application performance within complex hybrid cloud environments. You'll gain the ability to identify areas within your current data operations efforts that you can improve. You'll also see how your organization can increase efficiency, reduce cost and better fuel data delivery and accessibility.
Day two of Quest EMPOWER will feature big names in tech
You can look forward to sessions with everyone's favorite database experts: Microsoft Certified Master Brent Ozar and Pinal Dave, the creator of SQL Authority. If you've ever attended any of their webcasts, you know how fun their presentations are. And if this is your first time joining them, you're in for a good time.
Don't miss a special session with a Microsoft Certified Master
In his signature engaging style that makes any topic more interesting, Brent will show you how to migrate to the cloud with a roadmap for SQL Server databases. Like most companies, yours probably has many different SQL Servers with different versions, configurations and high availability choices. That makes it really tricky to translate all your servers into the right cloud requirements.
That's where Brent can help. He'll give you easy-to-follow guidance to determine the right approach for your company and the key questions to ask your stakeholders to achieve buy-in early on the direction you'll ultimately head. Another thing you'll love about Brent is he's not afraid to discuss the good, bad and ugly to ensure you have the information needed to put your team in the best possible position to succeed in your migration project.
Get more data operations guidance at Quest EMPOWER
Next up, we'll welcome Pinal Dave. He'll show you how to achieve cost-effective SQL Server performance tuning in the cloud. And the skills Pinal will provide you with couldn't come at a better time, as it's likely your company wants to see its applications run faster and its costs get lower.
That puts a lot of pressure on DBAs and developers. You want more resources, so your queries won't face performance bottlenecks, but CIOs/CTOs and IT managers are looking for opportunities to save money. And unlike on-premises infrastructure setup, every resource in the cloud has recurring expenses. That's where Pinal's advice can make all the difference.
Pinal will show you how to tune your queries and servers to run highly efficiently with limited resources when deployed to the cloud. He'll also show IT managers how they can get cost savings without compromising performance.
There's more in store for the second day of Quest EMPOWER
To help advance your organization's relationship with data, we'll offer more sessions on data operations. You can expect a session packed with tricks and tips for database performance monitoring. And Julie Hyman, Quest senior product manager, will lead a session on data engineering.
Julie will cover the role of the data engineer and how it has grown and evolved due to data proliferation. You'll learn how the intersection of traditional data analysis and data warehousing is combining with the modern efficiencies of data pipeline management and data orchestration to help IT teams deliver faster to the business.
Not signed up for Quest EMPOWER yet?
Let's change that. Register today because this year's data summit is already on track to be one of the best virtual events of the year. Even if you're not sure you can make it to the live event, you can get all the recordings to watch at your convenience, simply by signing up. Given that you can enjoy a wealth of Quest EMPOWER content from the comfort of your home or office – for free – you have nothing to lose and everything to gain. So, register now and get ready for new data intelligence, governance and operations strategies to maximize the business impact of your data.